Manage your business risk with a trusted partner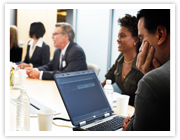 Think finding affordable security from online threats like hackers, malware, and viruses is impossible? Do you worry about compliance issues and how your business is going to stay up to date? What if you were to encounter an internal threat or accident, like lost laptops or flash drives?
With Network Security and Compliancy services from LammTech, you get an affordable solution that will give you the peace of mind to stop worrying about the safety of your business—for good. Our total solutions for network security mean defending your business from online threats is more affordable than you ever thought possible. Plus, you'll never again have to stress over keeping your business compliant when it comes to the privacy and backup of your sensitive information.
With complete, secure solutions from LammTech, you'll benefit from:
Security Awareness Training – keep your employees trained so they remain on their toes with security top of mind
Hazard Detection – security from predators, hackers, and other online threats
Risk Disclosure – our consultants uncover vulnerabilities within your network and suggest strategies to resolve them
Anti-Virus Services – keep your business safe from spyware, malware, and other viral threats
Security Tools for Users – like encryption, passwords, and virtual private networks
Our comprehensive solutions for network security give you all the protection your business needs, at a price you can finally afford.