Data Backup and Disaster Recovery keeping your business in the game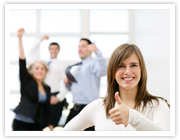 As everyone knows, potential security threats are just around the corner. A reliable disaster recovery plan eliminates the possibility of data loss – and all your worries as well.
LammTech's accomplished team of experts is the ultimate source for defense in business technology. We have the data backup and computer hard drive backup solutions that can protect you from professional devastation.
You don't have to stand the risk of losing everything you've built.
With LammTech as your partner in Business Continuity Planning and Disaster Recovery, you can:
Stop agonizing over menacing situations that are out of your control – we handle all of your backup requirements
Modernize your business – upgrade to a system with backup that's continual and automatic
Know your safety is never compromised – our reliable backup systems take the worry and risk out of the equation
Get back on track fast – we'll have you back in business quickly if disaster strikes
Protect more than data – we protect your data, email, systems and more for a rapid recovery you can count on
Getting strategic about Business Continuity and Disaster Recovery can mean the survival of your company in the event of a disaster.