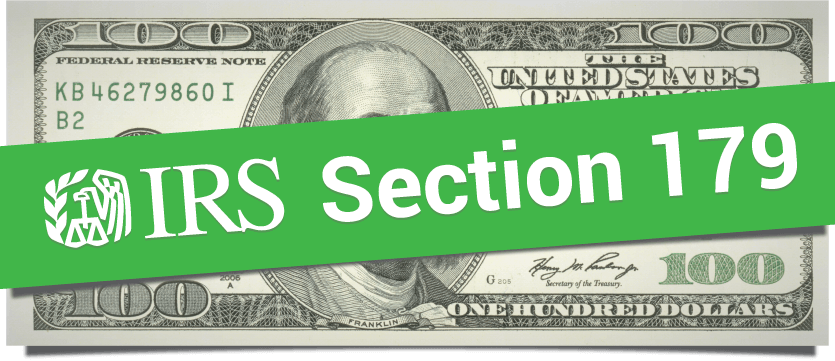 Many small business owners are generally familiar with some of the small business tax deductions that can help you save money at tax time, but did you know that in 2016 Congress approved an expansion of a popular tax deduction for small business equipment purchases? This tax deduction is called the Section 179 deduction, and it was recently expanded to the $500,000 level and made permanent, according to the Protecting Americans from Tax Hikes Act of 2015 (PATH Act). This tax break for small businesses is intended to make it more affordable for small companies to buy business equipment, such as office furniture, vehicles, computers, machinery and other tangible capital investments, by allowing businesses to deduct up to $500,000 per year in qualifying business equipment purchases from their taxable income.
Section 179 has been around for several years, but the levels and availability of this tax deduction had been fluctuating. When it was first introduced, Section 179 deductions had an annual limit of just $10,000. Congress kept raising the limit year after year, but then in January 2015, the limit dropped from $500,000 to $25,000. When Congress passed the PATH Act of 2015 in December 2015, they returned the deduction limit to $500,000 and made it permanent – helping to resolve any uncertainty about the rules for this type of small business tax deduction.
Businesses were already allowed to deduct the value of eligible business equipment purchases, but under standard rules, they had to deduct only a portion of the value of the equipment each year. For example, if a business purchases $5,000 of new computers, they might have to deduct $1,000 per year for 5 years. Section 179 allows your business to deduct the full value of certain business equipment purchases in the same tax year that the purchases are made, instead of having to depreciate – or deduct the amount in portions – on a year-by-year basis over the useful life of the equipment. This can be a big advantage to your business, because it can enable you to reduce your taxes by a larger amount this year, instead of having to wait several years to get the full tax benefits of buying business equipment.
WHAT YOU NEED TO KNOW:
Section 179 has a $500,000 limit on the total amount of business property expenses that can be deducted per year.
Section 179 can only be used for new or used property that is purchased by your business – not for leased or rented property or property that is received as a gift or inheritance.
Section 179 deductions can only be used for property that is primarily used for business. You must use the property for business more than half of the time, and the amount of your deduction is reduced by the percentage of your personal use.
This deduction is highly focused on small and medium-size businesses, because the only companies that qualify for Section 179 are ones that spend less than $2 million per year on qualifying business equipment purchases.
Starting in 2016, Section 179's $500,000 annual deduction limit and $2 million business investment limit will be indexed for inflation – so the amount of deductions will continue to adjust slightly each year along with overall prices in the economy.
QUALIFYING TYPES OF PROPERTY:
Section 179 deductions can be used for tangible personal property purchased for your business that the IRS has determined will last more than one year. Types of property include:
Computers
Software
Office furniture
Business equipment
Machinery
Business vehicles (weighing more than 6,000 pounds)
Section 179 cannot be used to deduct the purchases of other types of property, such as land, permanent structures attached to land, inventory, air conditioning and heating units and property used outside the United States.
For more information on Section 179 deductions and how they might help your business, check out this IRS website: http://www.section179.org
You can also sign up for this free Section 179 webinar hosted by the National Federation of Independent Business (NFIB).
DISCLAIMER: This article does not constitute professional tax advice; it is only intended to be informational and build awareness about possible tax deductions that business owners might qualify for. Individual tax circumstances may vary. Please talk with your accountant or other professional tax adviser before claiming any deduction