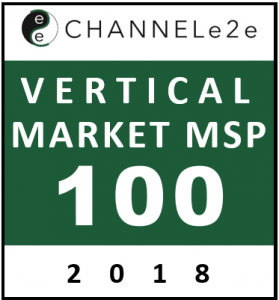 Third-Annual List Reveals Accelerating Momentum for MSPs
In Healthcare, Government, Financial Services, Manufacturing & More
March 20, 2018, Sedalia, MO: LammTech has been named to After Nines Inc.'s ChannelE2E Top 100 Vertical Market MSPs list and research (http://www.channelE2E.com/top100) for 2018. The annual list and research (#Top100MSP) identify and honor the top 100 managed services providers (MSPs) in healthcare, government, financial services, manufacturing and additional vertical markets.
The Top 100 Vertical Market MSPs rankings are based on ChannelE2E's Q4 2017 and January 2018 readership survey, and ChannelE2E's vertical market industry coverage. MSPs featured throughout the list and research leverage deep vertical market expertise to drive annual recurring revenues (ARR) in specific market segments.
This year's research revealed several key MSP market trends. Among the Top 100 Vertical Market MSPs for 2018:
Honorees generated a combined $277.3 million in vertical market annual recurring revenue (ARR) for 2017, up from $247.6 million in 2016.
Honorees are managing a combined 574 million users.
The most successful vertical market MSPs are zeroing in on healthcare and financial services, while manufacturing and legal sector activities are accelerating.
LammTech was ranked among the top vertical market MSPs in healthcare.
"We are proud of the team accomplishment of being recognized as a leader in the IT for healthcare market," Said Robert Lamm, CEO, "Our security awareness offering has provided great value for the healthcare industry."
"After Nines Inc. congratulates LammTech on this year's honor," said Amy Katz, CEO of After Nines Inc. "By diving deeper into vertical markets, top MSPs can increase their profitability and company valuations, while building stronger relationships in key market segments."
About LammTech
LammTech (www.LammTech.com)is a network management, Cloud and systems technology integrator providing end-to-end solutions that ensure business integrity for small, medium and enterprise-level clients.  From design through deployment LammTech is an advocate for clients to strategically align their business and IT objectives.  We architect, implement and fully manage IT solutions spanning computing infrastructure, enterprise management, VoIP, security and cloud solutions.  The company is headquartered in Sedalia, Missouri.