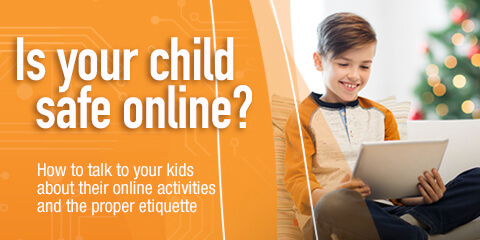 As the weather gets colder, that means more time stuck inside, and more screen time for the kids. Today's parents face a difficult challenge as they keep their kids safe while they're online, and teach them how to behave appropriately on the internet. Follow these tips to help your kids surf safely.
Internet Safety Tips:
Set Limits
Make sure your child knows the rules when it comes to the internet – how much time they can spend on it, what sites are allowed, and what they should and should not share. Consider signing a contract within your family that regulates internet use. The Family Online Safety Institute offers a sample on its website, and you can customize it as you see fit.
Supervise
Make sure you supervise children under age 10 while they are using the internet. Make sure the computer, tablet, or phone can only be used in a common area where it's easy to check in on them. Pay attention to everything they're doing online. As they get older, you don't need to be staring at the screen with them constantly, but always check in.
Be Open to Communication
On the internet, it can be easy even for seasoned users to accidentally end up on the wrong site. Make sure your kids know they should tell you as soon as they find something that makes them uncomfortable. They should know it is not their fault, and that you won't be angry with them if they end up on those sites. When they feel comfortable talking to you about what they might find, or what might be happening to them online, they'll turn to you when they need help.
Add Parental Controls
Programs like Net Nanny give a pretty substantial parental control across Android, iOS, Mac and Windows devices. Set up filters, block inappropriate websites, and set timers that keep your kids safe. You can even view usage reports to see where your kids are visiting. As your kids get older, it's important to tell them why you're blocking certain sites.
Warn Children of Predators
Make sure your children understand that not everyone tells the truth online. Just because someone says they're a child the same age as them, doesn't mean that's the case. It is essential that they tell you about any new people that they have met or have contacted them online. Hopefully you've set the standard and opened communication in a way that lets your child know you're there to protect them online.
Internet Etiquette Tips:
Setting Up Accounts
Allow your child to set up their own email or other online account, and coach them through aspects like creating a strong password, and keeping their identity safe. Instead of adding their own picture, help them find a favorite cartoon or avatar to use. Their username can be fun, but should not reveal their identity, such as their school, age or full name.
What Not to Share
Your child likely will not understand the consequences of sharing their personal information online. But they should know:
Never to give their name, phone number, email address, password, postal address, school, or picture without your permission
Not to open e-mail or messages from people they don't know
Not to respond to hurtful or disturbing messages
Not to get together with anyone they "meet" online
Keeping Behavior Appropriate
Remind your kids that whatever they post online, doesn't necessarily ever go away. Make sure they know that comments or messages should be appropriate, and they should double-check what they're sending. Anything can be screen-shot and sent to someone else. As kids get older and start using social media sites, they need to know the importance of being kind to others online
Set A Good Example
If you spend all your time on your phone or computer, your kids will want to do the same. Teach them proper etiquette by leaving your phone elsewhere when you sit down to eat dinner, or putting it down 30 minutes before bed. These devices are addicting, and you can help them (and yourself) by limiting time and focusing on the loved ones around you.