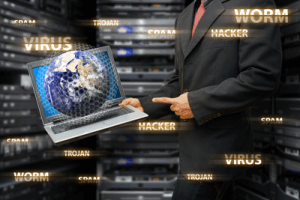 In June, thousands of businesses fell victim to a computer virus instigated by hackers who took data hostage and required businesses to pay a fee for its return. It was the second massive ransomware attack this year, after the "WannaCry" hackers came for businesses around the world in May.
This recent cyberattack is proof that hackers are getting more advanced and professional. The new strain affects even new computers (whereas WannaCry worked mostly on older systems). Attacks such as these are becoming more common due to the unfortunate combination of the outdated systems found in many businesses and government-grade hacking tools that are widely available.
2016 had a 300 percent increase in ransomware attacks compared to 2015, and in just the first half of 2017, mobile ransomware has risen by over 250 percent. One report from Cyber Security Venturespredicted that the cost of ransomware damage would exceed $5 billion in 2017. This includes not just the ransom payment that the hackers require, but also the costs of the loss of data, downtime, and lost productivity.
Protecting networks and data should be the No. 1 priority of business owners at the moment. Every company has data about their customers, employees, business plans, and more. If compromised, that could be devastating.
To help keep your business safe from hackers, be sure that you've taken care of these five things:
Don't click links in emails.
Many hackers can install viruses through phishing emails, malicious ads on websites, and questionable apps and programs. Although many people know they shouldn't open emails from unfamiliar senders, studies have found that people do it anyway. In one group tested with a mock phishing email, 20 percent said clicked the link in the email, but 45 percent actually did. In the second group tested, 16 percent of people said they clicked the link in the email, but 25 percent actually did — so not only are people clicking suspicious links, they know it's dangerous and that they shouldn't admit they did it! Make sure your employees know the dangers of opening emails that seem questionable, and make sure they know not to click any links in those emails.
Back up your data.
Save copies of your data to an external server that won't be affected even if your main network is attacked. While this won't protect you from a cyberattack, it will allow you to restore your network and information without paying a ransom. Make sure each employee's computer is consistently being backed up properly and that you store that data in a safe way.
Install antivirus and antimalware programs.
It might seem like a no-brainer, but installing these programs can stop ransomware and other malware from being downloaded and can find it if a breach occurs. Most of these programs will scan files for ransomware and can block secret installations from malicious activity. Find the best antivirus program for your network and install it on every computer.
Install updates.
Failing to keep your computers up-to-date and ignoring software updates can be very harmful. Many users who fell victim to WannaCry would have been protected if they had just updated their computer's operating system software. Set up your equipment so it automatically downloads the latest software as it becomes available.
Don't pay the hackers.
If you do suffer from a ransomware attack, do not pay the fees. This will encourage the attackers and will not necessarily result in the data being recovered. Use other programs to decrypt files, or just use the network backup you hopefully have stored. You can always contact an IT consulting firm to assist you in the process and help eradicate the threat from your infrastructure.
The last thing any business owner wants is to compromise the integrity of their company data, their employees, or their customers. Taking precautions to protect yourself from ransomware will help you recover, even if an attack occurs.